From
CNN Ticker Producer Alexander Mooney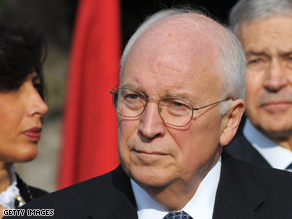 Cheney is writing a book.
(CNN) – Having made his rounds on the cable news circuit over the last few months, former vice president Dick Cheney is now headed to a book store near you.
Cheney has struck a deal with publishing house Simon & Schuster to write his memoirs covering a more than 40-year career in government, stretching all the way back to his roles in the Nixon and Ford administrations.
"It has been a tremendous privilege to serve during some of the most interesting and challenging times, as well as with some of the most fascinating people, in American history," Cheney said in a statement provided to CNN. "I look forward to writing about these experiences for the first time."
Read On.... If you can stomach it!